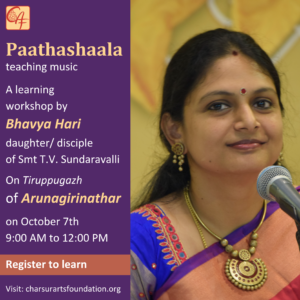 Charsur Arts Foundation works with well known Artistes, Gurus and Musicologists to impart lessons to students of Carnatic music through workshops and talks. As a part of its activities, the foundation presents lessons by Gurus, Classes workshops and talks on varied aspects of the genre. These lessons / workshops and talks are available to listeners, music students as reference material.
Attend online / class in person ( IN PERSON first 15 registrations only) 
Venue: Charsur Arts Foundation. 72-M C P Ramasamy Road, Alwarpet Chenai 600018
Immerse yourself in the enriching world of Carnatic music through our upcoming Paathashaalas in September. Join us for a captivating journey led by renowned artists, including Vidushi K Gayatri, Neyveli Santhanagopalan & Bhavya Hari. Explore the depths of melody, rhythm, and tradition as we delve into the intricate compositions of Carnatic music. Don't miss this opportunity to learn, grow, and connect with the soul-stirring tunes of these maestros. Reserve your spot now and embrace the musical magic that awaits.
We're here to help! Feel free to reach out to us with any inquiries or concerns you may have. We're dedicated to providing you with the information and support you need. Let's connect and address any queries you may have.